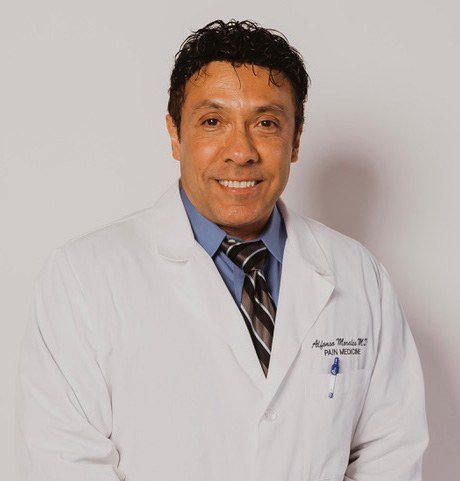 Dr. Morales specializes in Pain Medicine. He is a Diplomate of the American Board of Pain Medicine, and a member of the American Academy of Pain Medicine, American Pain Society, and International Association for the Study of Pain. As a guest speaker at numerous medical conventions and conferences. he has a passion for educating physicians and patients, in the multimodal pain approach to the management of pain.
As a Board Certified Addiction Physician, he has embarked on the task to educate providers about the topics on: Guidelines for the Responsible Prescription of Opioids. As well as this, he has presented at countless seminars informing physicians and patients alike about the disease of addiction and the various treatment options available including Suboxone (buprenorphine) and Vivitrol (naltrexone).
Dr. Alfonso Morales has been in the profession of pain management for almost 20 years. His dedication to his patients is evident in everything he does. Dr. Alfonso Morales firmly believes in the importance of teaching patients about pain, addiction and overall well being, where it comes from and what every individual can do to help manage or overcome pain. By doing this, he helps his patients live a happier, more functional, and active lifestyle, empowering patients to take control of their pain and ultimately their overall health.
Personal Background
Dr. Alfonso Morales was exposed to medicine at an early age. He is the son of a renowned cancer surgeon. This helped him develop the compassionate side of medicine and learn the importance of personal touch in the treatment of patients.
Dr. Alfonso Morales is a graduate of La Salle University Medical School, and he completed his internship at the Carilion Roanoke Memorial Hospital, which serves as a tertiary care referral center to a population of over 1 million people.
He then completed his residency at the Virginia Tech Carilion Family Medicine Program, and became board certified in Family Medicine.
He then had the opportunity to practice in a rural area in Wisconsin providing a wide variety of care: hospital, outpatient, ER care, and surgical care for his patients.
In 2000 he moved to the Twin Cities to start his own practice. He started Revive MD focused on a more personalized and comprehensive care of pain medicine.
In 2002 he became a Diplomate of the American Board of Pain Medicine, and in 2004 became one of the very few physicians to be certified and receive the waiver to prescribe Suboxone/Buprenorphine for the treatment of opioid dependence and addiction.
Dr. Alfonso Morales is passionate about the interface of pain and addiction, and the prevention and treatment with newer modalities. He is board-certified in addiction medicine.
He is also passionate about the newer regenerative modalities to help treat degenerative joint and spinal disease.
Dr. Alfonso Morales has expanded his reach by joining Renew Vitality's nationwide network of physicians. He assists men who experience age-related symptoms by creating and facilitating individualized testosterone treatment plans.
In his spare time, Dr. Alfonso Morales enjoys playing soccer, tennis, ballroom dancing and traveling with his family.
Dr. Alfonso Morales Credentials